You could easily say Shanghai is a record-breaking city as it has the world's longest bridge, fastest train, and until recently tallest ever building. It was the birthplace of an economic revolution that led to modern China and is one of the engines that powers China's supercharged economy.
It is the largest city in China and it was once a sleepy fishing and textile town. In the 1850s, Shanghai was even used as a verb to describe drugging and kidnapping of sailors that frequently docked and traded in Shanghai. But despite the negative start, modern Shanghai is living in a totally different story – a vibrant vision of development and economic growth. Today, Shanghai has grown into a busy center with international commerce and is one of the fastest growing cities in the world.
Getting Around
The best way to get to the city from the airport is by taxi. Shanghai taxis do not differ from their counterparts in other countries with just one exception the drivers are caged but don't be alarmed you'll know why soon. There are a few types of colored taxis in Shanghai. Whenever possible, try to avoid dark red or maroon taxis as they are operated by small taxi companies and drivers will very likely take you for a ride. Though Shanghai is the largest, and the most developed city in China, its streets are not as confusing as it initially seems. It has an extensive public transport system of buses, trolleys, taxis, and metro system that will bring you virtually anywhere in Shanghai.
While traffic is fairly smooth and convenient, the great influx of foreigners and Chinese from other parts of China to seek their fortune in Shanghai has contributed to the increasing congestion. With its rapid urbanization, Shanghai is also a melting pot of cultures. see all the buildings behind me they're a real mishmash of architectural styles as so much difference here we've got corporate chic, space-age retro there's no real unifying theme uniting all these buildings together. I think this reflects Shanghai's cosmopolitan culture but not only that it demonstrates the Shanghai mindset of doing whatever it takes to stand out from the crowd.
Lupu Bridge
Perhaps, it is the drive to be outstanding and recognized that has made Shanghai literally a record-breaking city. To get a feel of what it's like at the top, you can to the top of a building to see the world's longest arch bridge. The 3.9 kilometer Lupu Bridge opened in 2003 and offers a spectacular view of Shanghai Expo site on both sides of the river. The magnificent vista stretch is living proof that Shanghai is China's bridge to the world economy and the land of dreams for aspiring entrepreneurs.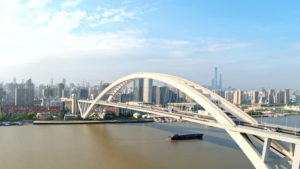 Skyscrapers
20 years ago Shanghai's tallest building was the Park Hotel which is built in the 1930s. Since then over 4,000 buildings have gone up, 2,000 of which have been skyscrapers, and this rapidly changing cityscape is evidence of Shanghai's ferocious economic growth and evolving business culture. Back in the city, Shanghai is in full swing expanding a skyline, the Shanghai business district boasts of famous landmarks like the Jin Mao tower which is also home to offices of many multi-international companies. While Europeans took centuries to build some of their cities, Shanghai took just decades. As massive urbanization is still undergoing, the persistent sound of construction can be heard throughout the city.
Expat Community
With society moving at such a fast pace, joining a networking session with the expatriate community in Shanghai is a great idea. Networking is one trick to doing business in Shanghai. The right connections and referrals will open many doors of business opportunities for the well-acquainted entrepreneur.
There is so much to do and see in this city, hopefully this guide will help you plan your next trip to Shanghai.